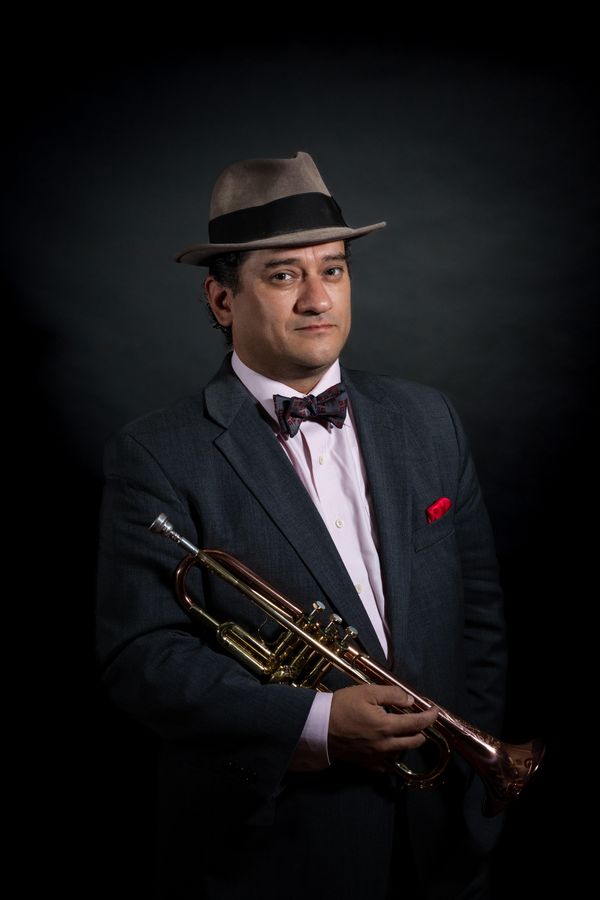 Curtis Calderon was born and raised in San Antonio, but has traversed the country in touring and brief stints living in Las Vegas, NV and Hollywood, CA.  Influenced by his early tours with big bands, his trumpet sound commands attention and his vocal style welcomes all listeners with his phrasing and vulnerability.  
Curtis started touring right out of high school and did tours with big bands such as the World Famous Glenn Miller Orchestra.  Starting in 2001, he began touring with The Four Freshmen, singing the 2nd tenor voice and playing trumpet.  After touring for 15 years with The Freshmen, he came home to raise a family.  He now resides in San Antonio, TX and does touring when his schedule allows and is one of the top call trumpeters in the state of Texas.  
Currently he is playing shows most nights with various bands across Texas and touring acts that come through.  He's currently working on several music projects that he's looking forward to releasing under his own name.  
Curtis has been featured on nearly a dozen Four Freshmen recordings, numerous PBS specials with the Four Freshmen and past groups he's toured with.  He is a featured Schilke Trumpet Artist and has been for a decade now.